Go to content
Main menu:
About us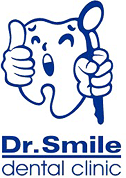 Dr. Smile Dental Clinic was first officially open at Shukhumvit 33/1 on July 1, 1997. Then again on June 1, 2003, Silom branch was open on Silom Road at some distance across from Convent Road. With the desire to make people from all over the world have healthy teeth and bright smile, Dr. Smile Dental Clinic provides friendly services in a modern atmosphere and minimal style. Dr. Smile Dental Clinic is determined to ensure good understanding between patients and doctors in patients' needs, possibilities of dental treatment, as well ascost of service by offering alternatives, mainly based on possibilities and beauty, in order to achieve trusted patients' satisfaction.

Dr. Smile Dental Clinic has doctors in various oral health specialties and is equipped with a modern, sterile and quality controlled facility.
Dr. Smile Dental Clinic would like to thank everyone for trusting and allowing us to take good care of your oral health.
Back to content | Back to main menu